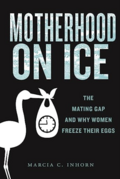 Why are women freezing their eggs in record numbers? Motherhood on Ice explores this question by drawing on the stories of more than 150 women who pursued fertility preservation technology. Moving between narratives of pain and empowerment, these nuanced personal stories reveal the complexity of women's lives as they struggle to preserve and extend their fertility.
Contrary to popular belief, egg freezing is rarely about women postponing fertility for the sake of their careers. Rather, the most-educated women are increasingly forced to delay childbearing because they face a mating gap―a lack of eligible, educated, equal partners ready for marriage and parenthood. For these women, egg freezing is a reproductive backstop, a technological attempt to bridge the gap while waiting for the right partner. But it is not an easy choice for most. Their stories reveal the extent to which it is logistically complicated, physically taxing, financially demanding, emotionally draining, and uncertain in its effects.
In this powerful book, women share their reflections on their clinical encounters, as well as the immense hopes and investments they place in this high-tech fertility preservation strategy. Race, religion, and the role of men in the lives of single women pursuing this technology are also explored. A distinctly human portrait of an understudied and rapidly growing population, Motherhood on Ice examines what is at stake for women who take comfort in their frozen eggs while embarking on their quests for partnership, pregnancy, and parenting.