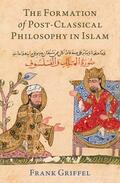 Scholars have come to recognize the importance of classical Islamic philosophy both in its own right and in its preservation of and engagement with Greek philosophical ideas. At the same time, the period immediately following the so-called classical era has been considered a sort of dark age, in which Islamic thought entered a long decline. In this monumental new work, Frank Griffel seeks to overturn this conventional wisdom, arguing that what he calls the "post-classical" period has been unjustly maligned and neglected by previous generations of scholars.
The Formation of Post-Classical Philosophy in Islam is a comprehensive study of the far-reaching changes that led to a re-shaping of the philosophical discourse in Islam during the twelfth century. Earlier Western scholars thought that Islam's engagement with the tradition of Greek philosophy ended during that century. More recent analyses suggest that Islamic thinkers instead integrated Greek thought into the genre of rationalist Muslim theology (kalām). Griffel argues that even this new view misses a key point. In addition to the integration of Greek ideas into kalām, Muslim theologians picked up the discourse of classical philosophy in Islam (falsafa) and began to produce books in the tradition of Plato, Aristotle, and Avicenna—a new and oft-misunderstood genre they called ".hikma"—in which they left aside theological concerns. They wrote in both genres, kalām and .hikma, and the same writers argued for opposing teachings on the nature of God, the world's creation, and the afterlife depending on the genre in which they were writing. Griffel shows how careful attention to genre demonstrates both the coherence and ambiguity of this new philosophical approach.
A work of extraordinary breadth and depth, The Formation of Post-Classical Philosophy in Islam offers a detailed, insightful history of philosophy in Iraq, Iran, and Central Asia during the twelfth century. It will be essential reading for anyone interested in the history of philosophy or the history of Islam.