Thomas Connolly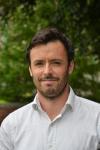 Associate Professor of French
Fields of interest :
Francophone poetry and visual arts in the Maghreb
Thomas Connolly obtained his BA in Modern Languages from the University of Oxford in 2002. He spent three years at the École normale supérieure (Ulm) as 'élève de la Sélection internationale,' and completed a 'Maîtrise' and a 'DEA' at the Université de Paris IV–La Sorbonne. He received a PhD in Comparative Literature from Harvard University in May 2012.
Thomas's research interests include nineteenth- and twentieth-century French and Francophone poetry, with emphasis on the prose poem, ekphrasis, and, more broadly, poetry's relation to the visual arts. He is working on a new book project that examines the interrelations of poetry and visual media in the Francophone Maghreb. His first book, Paul Celan's Unfinished Poetics: Readings in the Sous-Oeuvre is scheduled to appear with Legenda in 2017.
Thomas is currently serving as Director of Undergraduate Studies in French.
Selected Publications:
"Berber Spider: Tahar Djaout, Arachne, and the Afterlife of Oral Poetics." Forthcoming in MLN.
"Walking in Color: Another Look at Musical Ekphrasis through Chagall's Jerusalem Windows." Forthcoming in Mosaic.
"Primitive Passions, Blinding Visions: Arthur Rimbaud's 'Mystique' and a Tradition of Mystical Ekphrasis." PMLA 132.1 (2017): 101 – 18.
"'Baroque et belle': Dirty Prose, Photos, and Other Subtle Secrets in Mallarmé's 'Le Nénuphar blanc'." Forthcoming in Romanic Review.
"Baudelaire the Frequent Flyer: Prostitution, the Press, and How the Prose Poem Almost Sold its Soul." Romance Notes 55.3 (2015): 463 – 74. 
"'Splendides et salomoniques': On Temples in Mallarmé." French Studies Bulletin 37.1 (2016): 1 – 3.
"Oils, Psalms, and Scum: Anadyomene Paint and the Limits of Ekphrasis in Paul Celan's 'Einkanter: Rembrandt'." Modern Philology 111.4 (2014): 841 – 61.
""Keine Schönschrift für Schulkinder": Towards a Poetics of the Pre-Text in Paul Celan's Eingedunkelt." Forthcoming in Compar(a)ison.