Supriya Gandhi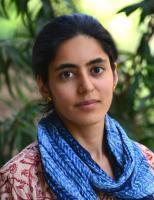 Assistant Professor of Religious Studies
Fields of interest :
Asian Religions, Islamic Studies
A.M. and Ph.D. Harvard University
M.A. School of Oriental and African Studies, University of London
B.A., St. Stephen's College, New Delhi
Supriya Gandhi's research examines the interface of Islam and Indic religions in South Asia.  Her interests include the religious and cultural history of the Mughal empire, Islamic mysticism, the early modern and modern translation of Indic texts into Persian, and modern Hindu thought.  She grew up in India and studied there as well as in Iran and Syria before earning her doctorate.  Her research has been supported by grants from the Fulbright and ACLS/Mellon foundations, among others.  At present she is completing a book examining the writings and political context of the Mughal prince and Qadiri Sufi, Dara Shikoh (1615-59), whose works include a translation of roughly fifty Upaniṣads into Persian.  Her next project explores the role of the Persianate cultural and intellectual ecumene in the making of modern Hinduism.