Shiri Goren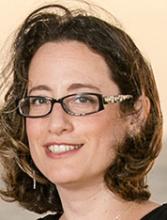 Senior Lector II of Modern Hebrew, and Hebrew Program Director / Near Eastern Languages and Civilizations
304 Elm Street, New Haven, CT 06511
Shiri Goren is a senior lector in the department of Near Eastern Languages and Civilizations. Her areas of specialization include modern Hebrew and Yiddish literature, Israeli culture (visual culture and film), gender and queer theory. She is also active in the field of Hebrew teaching, working on several projects on the intersection of language pedagogy and digital humanity.  
She is the co-editor of Choosing Yiddish: New Frontiers of Language and Culture (Wayne State University Press, 2013) which highlights a new generation of scholars revitalizing the field of Yiddish Studies. The book includes her essay on the last work of (Yiddish) prose by Hebrew author David Vogel. Her current book project, Creative Resistance: Literary Interventions in the Israeli-Palestinian Conflict, explores how violence affects real and imagined spaces in Israel of recent years. The book focuses on novels by the writers Orly Castel-Bloom, Gabriella Avigur-Rotem, Ronit Matalon, and Sayed Kashua, as well as films, documentaries and TV series.
Among the courses she teaches are: Israeli Society in Film [Hebrew]; Israeli Identity and Culture: 1948 to the Present [English]; Dynamics of Israeli Culture [Hebrew]; Conversational Hebrew: Israeli Media; Israeli Narratives [English]; as well as Hebrew language courses (Elementary, Intermediate and advanced).
Goren has recently received grants from the A. Whitney Griswold Faculty Research Fund (2012-2014), The Center for Language Study (IIG 2008, Travel Grants 2014-2015) and the Council on Middle East Studies at Yale University. 
Before coming to the United States, she was a journalist and senior editor of news magazines on Israeli television and radio. 
Select Publications
"Humor, Violence and Creative Resistance in the Israeli TV Show Arab Labor" (in Hebrew).
Studies in Israeli and Modern Jewish Society, [Iyunim Bitkumat Israel] No. 24, December 2014.
"War at Home: Literary Engagements with the Israeli Political Crisis in two Novels by Gabriela Avigur-Rotem." In Rachel Harris and Ranen Omer-Sherman eds. Narratives of Dissent: War in Contemporary Israeli Arts and Culture (Detroit: Wayne state UP, 2013), 187-204.