Robyn Creswell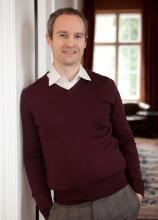 Associate Professor of Comparative Literature
451 College St, New Haven, CT 06511-8906
Fields of interest :
Modernist Poetry; Modern Arabic Literature; Theory and Practice of Translation; Contemporary American Poetry; Genre Theory; Politics of the Modern Middle East
Robyn Creswell is Assistant Professor of Comparative Literature and poetry editor of The Paris Review. His research focuses on poetic modernisms in English, French, and Arabic. Other fields of interest include the intellectual history of the modern Middle East, theories and practices of translation, and contemporary poetry.
Creswell is the translator of Abdelfattah Kilito's The Clash of Images (New Directions, 2010) and The Tongue of Adam (New Directions, 2016), as well as Sonallah Ibrahim's That Smell and Notes from Prison (New Directions, 2013). His essays and reviews have been published in The New Yorker, The New York Review of Books, and The New York Times Book Review. He is a former fellow of the Cullman Center at the New York Public Library, and the American Academy in Berlin.