Kishwar Rizvi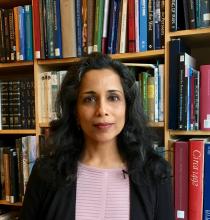 Robert Lehman Professor in the History of Art and Architecture
190 York St, New Haven, CT 06511
Fields of interest :
Islamic art and architectural history; fieldwork in Iran, Syria, Turkey, Pakistan, United Arab Emirates, Saudi Arabia and Qatar. Issues of gender, nationalism and religious identity, pilgrimage and ritual in the Islamic world, 15-21st centuries.
Kishwar Rizvi is Professor of Islamic Art and Architecture and Chair of the Council on Middle East Studies. She is the author of The Transnational Mosque: Architecture and Historical Memory in the Contemporary Middle East (University of North Carolina Press, 2015), which received the 2017 Charles Rufus Morey Book Award from the College Art Association. Her earlier publications include The Safavid Dynastic Shrine (2011) and the anthology, Modernism and the Middle East: Architecture and Politics in the Twentieth Century (2008), which was awarded a Graham Foundation publication grant.  She recently edited, Affect, Emotion, and Subjectivity in Early Modern Muslim Empires: New Studies in Ottoman, Safavid, and Mughal Art and Culture (Brill, 2017) and is currently working on a new book on the Safavid ruler Shah Abbas and global early modernity.