Kevin van Bladel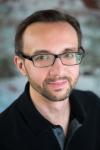 Professor of Near Eastern Languages and Civilizations
304 Elm Street, New Haven, CT 06511
Fields of interest :
Early Arabic scholarship; ancient Iranian languages and societies; Syriac; Greek; history of science, scholarship, and religions of the Near East 200-1200; historical sociolinguistics
Kevin van Bladel is Professor of Near Eastern Languages & Civilizations. He is a philologist and historian studying texts and societies of the Near East of the period 200-1200 with special attention to the history of scholarship, ancient Iran and the transition from Persian to Arab rule, and historical sociolinguistics. His research focuses on the interaction of different language communities and the translation of learned traditions between Arabic, Iranian languages, Aramaic, Greek, and Sanskrit.