Evren Savci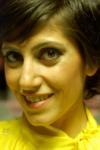 Assistant Professor of Women's, Gender and Sexuality Studies
Evren Savcı is a scholar of transnational sexualities, whose work is informed by feminist and queer theory and ethnographic methodology. She is currently finishing her first book Queer in Translation: Sexual Politics under Neoliberal Islam (under contract with DUP), which analyzes sexual politics under contemporary Turkey's AKP regime. As she wraps up her first book, she is starting a new research project on "failures of Westernization," analyzing sexual practices that were deemed "uncivilized" and either heavily discouraged or outlawed by the Turkish Republic, such as Islamic matrimony, cousin marriages, arranged marriages and polygamy, yet are still practiced today.
 Savcı's work on the intersections of language, knowledge, sexual politics, neoliberalism and religion has appeared in Journal of Marriage and the Family, Ethnography, Sexualities, Political Power and Social Theory, Theory & Event, and Journal of Feminist Studies in Religion, and in several edited collections. She has contributed op-eds, blog entries and interviews to Jadaliyya, The Feminist Wire, make/shift and Middle East Research and Information Project. She was selected Exemplary Diversity Scholar by University of Michigan National Center for Institutional Diversity in 2013.
Savcı received her Ph.D. in Sociology from University of Southern California, and her master's and bachelor's degrees in Sociology from University of Virginia. Following her Ph.D., she was a postdoctoral fellow at The Sexualities Project at Northwestern (SPAN).