Eda Pepi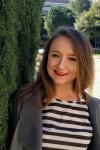 Assistant Professor in Women's, Gender, and Sexuality Studies
Fields of interest :
The anthropology of the Middle East and North Africa; gender, marriage, and kinship; citizenship, migration, and statelessness; inheritance and politics; ethnicity, indigeneity, and race; sovereignty, neoliberalism, and the state; security, surveillance, and policing; historicism and post-colonial historiographies; sexual violence in anthropology; the politics of religion
Eda Pepi is a sociocultural anthropologist of the Middle East and North Africa (MENA) region. She is Assistant Professor of Women's, Gender, and Sexuality Studies at Yale University, where she works at the intersections of feminist studies, political anthropology, and the anthropology of kinship. Her research and publications focus broadly on the cultural and historical processes through which gender, ethnicity, citizenship, sovereignty, and the state have been forged in contemporary MENA territories, as well as across the Class A League of Nations mandates in the Middle East (1917–1948). Pepi is at work on her first book, provisionally titled Marital States: Ethnicity and Gendered Citizenship in Jordan, which explores how states manage political and economic problems, like statelessness, through families. This project examines ethnographically how Jordan polices its borders by regulating the marital and reproductive choices of Jordanian women, showing that our understandings of the state cannot stand separate from analyses of gender and kinship. She is currently also developing a second ethnographic project on gender, marriage, and race in North Africa. This book project will shine ethnographic light on mixed-race and mixed-nationality families at borderlands across the Sahara. 
After completing her undergraduate degree at Harvard University and working at the Social Science Research Council for several years, Pepi received her MA and her PhD from the Department of Anthropology at Stanford University.  Her research has been funded by the National Science Foundation, the Mellon Foundation, the Woodrow Wilson National Fellowship Foundation, and the Fulbright Program.