Dina Roginsky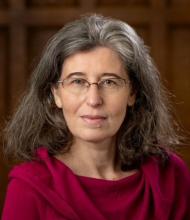 Senior Lector I of Modern Hebrew / Near Eastern Languages and Civilizations
304 Elm Street, New Haven, CT 06511
Fields of interest :
Hebrew language, Israel and Jewish Studies, Sociology of Culture, Performance, Folklore and Body
Dina Roginsky is a senior lector of Modern Hebrew language and culture in the Department of Near Eastern Languages and Civilizations at Yale University. Roginsky received her Ph.D. in Sociology and Anthropology (Magna Cum Laude, 2006) and her M.A. in Psychology (Magna Cum Laude, 1998) from Tel Aviv University and completed a post-doctoral research in the Department of Performance Studies at New York University. Before joining Yale she taught Hebrew and Israel Studies at the University of Toronto.
She teaches the courses: Israeli Popular Music, Hebrew in a Changing World, State and Society in Israel, Israel in Ideology and Practice, Academic Texts in Modern Hebrew, and Biblical to Modern Hebrew for Reading Knowledge, in addition to teaching core modern Hebrew language classes.
Her research interests focus on the intersection between culture, history, politics and performance. Her doctoral dissertation Performing Israeliness analyzes the 100 year social and ideological history of the Israeli Folk Dance Movement. Roginsky is the co-editor of the books Dance Discourse in Israel (2009, Resling press) which explores the field of Israeli dance research and Sara Levi-Tanai: A Life of Creation (2015, Resling press) which acknowledges the multifaceted contribution of a Jewish-Yemenite woman artist who operated in pre-state Israel. Her third co-edited book is in press, titled: Points of Contact: Dance, Politics and Jewish-Arab Relations in Israel. She is currently working on her new project In Search of Identity: Hebrew as a Heritage Language.
 
Select Publication
Dance Discourse in Israel. Resling Press, 2009. Dina Roginsky and Henia Rottenberg (ed.)