A Thousand Strange Places: Anthony Shadid and the Middle East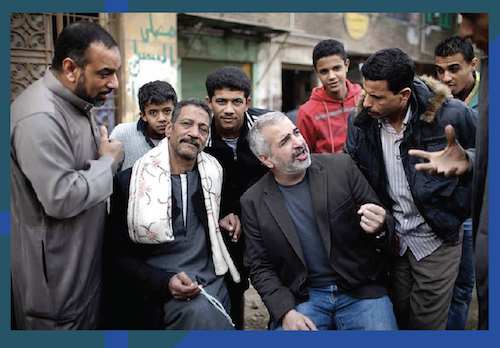 On April 29-30, Yale MacMillan's Council on Middle East Studies (CMES), in partnership with the Alwaleed Center for American Studies and Research (CASAR) at the American University of Beirut, will present a staged reading of A Thousand Strange Places: Anthony Shadid and the Middle East. This new play, directed and developed with Kirsten Sanderson, is written by playwright and scholar Robert Myers, who teaches literature at AUB. It is based on the career of the Lebanese-American, Pulitzer-Prize winning journalist, Anthony Shadid.
The Shadid archive at the American University of Beirut's Jafet Library was an important source for the play. According to Myers, the stories and documents in the archive show Shadid as a compelling figure and gifted writer. His life and work will provide the audience with insight into the complexity of Arab culture and the Arab experience, both Shadid's own as an Arab-American and that of those living in the Middle East. He took the reader beyond the 'us vs them' narrative that dominated U. S. discourse after 9/11. What the archives made clear to Myers was that Shadid was a journalist who could connect with the humble shoemaker and the educated elite.  In both cases, he let their lives and experiences reveal themselves, and in so doing gave narrative form to the complexities of the region as well as the relationship of the US to the people of the Middle East. While an American public was being told its military was bringing freedom to a region, those on the ground often saw Americans as imperialists. Shadid's stories, and Robert Myers' telling of the journalist's life for the stage dramatize this engagement between the US and the Arab world.
In addition to the staged readings, on Saturday afternoon, April 30, CMES and CASAR are hosting the panel Listen Hard Because Every Human Story Matters: Why the Anthony Shadid Legacy Resonates More Than Ever. Journalist colleagues Philip Bennet, Thanassis Cambanis, Rhonda Roumani, Ken Harper, Rami George Khouri, Rajiv Chandrasekaran, Anne Barnard, and Leila Fadel, will address the professional legacy of Shadid and how he influenced the way reporters today report on the Middle East. Both events are in person and Luce Hall Auditorium.
A Thousand Strange Places: Anthony Shadid and the Middle East April 29 @ 8pm and April 30 @ 7pm, Luce Hall Auditorium, 34 Hillhouse Avenue, New Haven. More information at: https://cmes.macmillan.yale.edu/event/thousand-strange-places-anthony-sh…
Listen Hard Because Every Human Story Matters: Why the Anthony Shadid Legacy Resonates More Than Ever: April 30 @ 2pm, Luce Hall Auditorium, 34 Hillhouse Avenue, New Haven