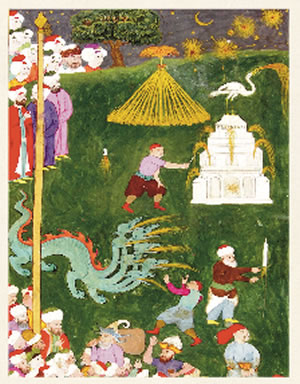 During the polarizing weekend that preceded Turkey's constitutional referendum on April 16, the MacMillan Center, in conjunction with the Department of Near Eastern Languages & Civilizations, hosted an international symposium on the topic of "Recent Perspectives of Ceremonies, Rituals, and Festivals in the Ottoman World" from April 13 to 15 that included three renowned scholars in the field of Ottoman studies: Suraiya Faroqhi (Istanbul Bilgi University), Jane Hathaway (Ohio State University) and Leslie Peirce (New York University).
Alan Mikhail (Yale University) gave the welcome speech. The first panel focused on the role of hil'ats (robe of honor) in Ottoman imperial ceremonies. What defines a robe? What distinguishes a robe of honor from an ordinary robe? What is the afterlife of a hil'at, after its bestowal, or even after the death of the person upon whom it had been bestowed? The presenters took the audience through the Abbasid, Fatimid, Mamluk, and Ottoman eras using images and narrating the changes in styles and production methods of robes of honor. Faroqhi, the discussant of this panel, urged scholars to think deeply about the circulation of such robes and to eschew rigid categorizations of textiles as being either "Ottoman" or "European," pointing to a document she had come across in Venice in the 1960s. "This was a letter of an Ottoman dignitary who had a piece of valuable silk cloth from Damascus… and was sent to Venice for embroidery, and then back again to Istanbul. This Ottoman dignitary wrote to his correspondent in Venice asking him to please do me a favor and look up this embroiderer every once in a while so that he does it the way I want it to be."
The second panel focused on the representation of festivals and ceremonies, and introduced to the audience the kinds of delectable dishes that were served at imperial festivals, the manner in which royal weddings were conducted, and the process of literary patronage at the imperial court with specific reference to poetry and calligraphy. Iskorkutan, a co-organizer of the symposium, presented a fascinating account of her archival detective work. The mystery Iskorkutan attempts to solve concerns an innocent looking dish on a table in a representation of a festival in an illustrated manuscript. Iskorkutan's question is, "Who ate these fish?" Using other images from illustrated manuscripts at the Topkapı Palace Library, account registers full of siyakat notations, as well as different chroniclers' reports of the events, Iskorkutan discovers that 50 vukiyyes of assorted fish had been made into fish kebabs that were then served to foreign envoys, but not court officials. Jane Hathaway, the discussant of this panel, pushed the audience to think about how much of a break 19thcentury represented from what went on before in terms of imperial ceremonials and processions.
The third panel was themed "royal and urban ceremonial scrutinized." Using Ottoman and Safavid sources, Ayşe Baltacıoğlu-Brammer (Binghamton University SUNY) introduced the various subversive ways in which kızılbaş beliefs infiltrated the Ottoman empire, and how the Ottoman state attempted to weed out these Safavid influences. Ünver Rüstem (Johns Hopkins University) began his presentation with two contrasting images – a photo of Obama's inauguration in 2009 and Trump's inauguration in 2017. He stressed that in the Ottoman empire, as in our world today, "the optics of ceremonial matter." His talk proceeded to explore the relationship of post-classical sultanic mosques and the evolution of sultanic ceremony over the 18th century, as sultans ventured more frequently into the public arena, and in more elaborate ways. Leslie Peirce, the discussant for this panel, contrasted the "monumental enterprise" that Rüstem presented with the "clandestine enterprise" that Baltacıoğlu-Brammer described, and urged us to "scrutinize" these various ceremonies.
On Saturday, April 15, the final panel on "royal and urban ceremonial scrutinized" saw fascinating papers by Jane Hathaway, Darin Stephanov (Aarhus Institute of Advanced Studies) and Veysel Şimşek (Yale University). The audience learned about and discussed various issues regarding the Ottoman Chief Harem Eunuch, comparative court rituals in the Ottoman and Russian empires, and military recruitment induction ceremonies. Şimşek's exploration of the new mass conscript Ottoman army provided an interesting perspective on the social, economic, and cultural history of the late Ottoman empire. Baltacıoğlu-Brammer served as discussant for this panel.
Faroqhi gave the closing remarks wherein she summarized all the papers presented with her insights and suggestions for future articles. Ozgen Felek (Yale University) and Iskorkutan presented plans to publish these papers in an academic journal.
The symposium was organized by Ozgen Felek, Sinem Erdogan Iskorkutan, and Alan Mikhail. Funding for the event was provided by the Edward J. and Dorothy Clarkey Kempf Fund at Yale, the Department of Near Eastern Languages and Civilizations, and the USDE Title VI National Resource Center Grant.
---
Written by Choon Hwee Koh, a graduate student in the department of History, Class of 2020.